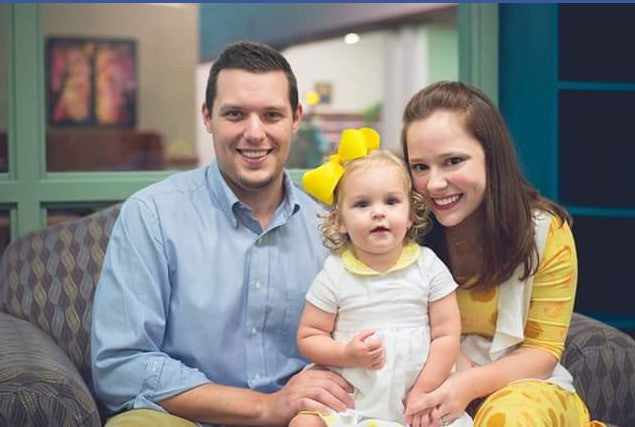 We are super excited to announce that during the week of March 26, we will be donating 25% of all online sales to the Amick Family Adoption!  Here's our guest blogger Lindsey Amick and her sweet family's story.
We just recently celebrated our daughter's second birthday. It was a day filled with Minnie Mouse ears, friends, and deep gratitude for the blessing she is in our lives. We met Addie when she was two weeks old in a badly lit NICU room and in that moment our family grew to three. Our adoption journey to get to her was a long one and often times very difficult. Throughout the entire process, however, we believed God had called us to grow our family through adoption and in spite of the process at the end would be a beautiful addition to our family.
Being a parent is so hard and so wonderful all at the same time. There are times as new parents when we think no way could we handle more. Yet, we recently found ourselves asking if we would do it all again. And the answer was a big ole' YES. So here we are jumping into this whirlwind adoption process with hopes of growing our family into four. We believe so strongly that adoption is a picture of the Gospel, and how God has welcomed us into His family as His own. We also feel strongly that a sibling for our daughter is in her best interest so they can help shape and grow and love one another.
We are seeking to adopt an infant domestically and we are currently in the homestudy portion of our process. Right now adoption looks like a lot of paperwork, meetings, and prayer. Another big aspect of this process for us is fundraising, which is why we are here together now! Adoption is expensive and we know firsthand that it takes a village to bring a baby home. We are so blessed that the generosity of others helps us to grow our family. 
Meredith and I first met when my husband and I were serving on staff at her family's church in North Carolina.  We were instantly bonded because we share the same birthday! We had the privilege of attending Bobby and Meredith's wedding and spending time with their families as we served in NC. We now live in Missouri and through the gift of social media have kept in touch. Bobby and Meredith have a heart for adoption just like we do and I am OBSESSED with Meredith's gorgeous jewelry collection and thus this fundraising partnership was born.
Thank you so much for hearing our story and being a part of what God is writing for our future. You can continue to follow our journey and give financially at our website amickadventures.wordpress.com. You can read more about our first adoption here.
- Lindsey Amick